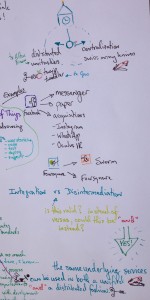 Sandy, Phaedra and Michael R. are traveling, on vacation or otherwise engaged in important work, so Michael M. takes a shot at a solo show to explore some thinking on how a number of major apps are breaking down their function into smaller bite sized bits and deploying them as individual apps.
Examples of this are FourSquare, with its Swarm app, Facebook, with the Messenger app, alongside some of the recent acquisitions like Instragam and WhatsApp.
Linking to the Gamification theme of this podcast, Michael muses on how this application functionality breakdown allows for smaller component pieces of functionality can be recombined in a way to allow for games and play — how quickly the same exact functions can be reorderd and recombined to create innovative ways to deliver new sets of function from the same component parts.
Michael thanks @AltonBrown for his 'unitasker' design language, and Berke Breathed for giving us Opus and the Turnip Twaddler.
A very happy Father's Day to all the Dads listening in to the podcast!
selected links
Turnip Twaddler vs Swiss Army Knife twitter post — https://twitter.com/carolinabigblue/status/475941050901876737
Berke Breathed —http://berkeleybreathed.com
Berke Breathed / Opus on Turnip Twaddlers — http://www.gocomics.com/bloomcounty/2010/05/08
Alton Brown — http://altonbrown.com
Alton Brown on unitaskers — http://gizmodo.com/5347140/alton-brown-kitchen-gadget-judgment-calls—yea-or-nay
Swarm — https://www.swarmapp.com
Foursquare — https://foursquare.com
Facebook — https://www.facebook.com
Facebook Messenger — https://www.facebook.com/about/messenger
Instagram — http://instagram.com
WhatsApp — http://www.whatsapp.com
Flight Track — http://www.mobiata.com/apps/flighttrack

Podcast: Play in new window | Download (Duration: 16:16 — 18.8MB)