We will control the horizontal. We will control the vertical. — intro from the 1960s US television show, The Outer Limits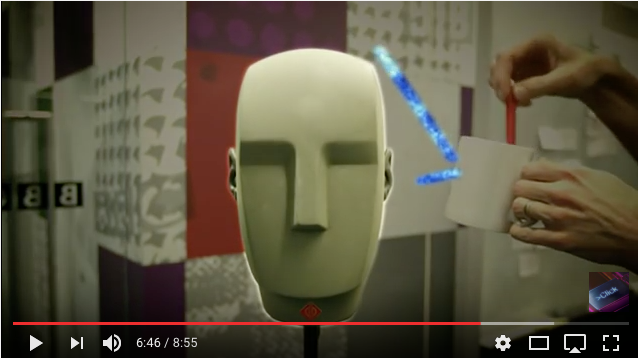 We will control the audio. After many episodes discussing virtual reality and augmented reality, Michael and Michael place their focus for this show on the auditory. Not just 3D sound, but positional sound — location based sound. Sound that makes you look.
The binaural sound demo from the BBC starts off the conversation (be sure to have your headphones or earbuds at the ready for this), demonstrating how audio engineers crafted a head that looks like a villager from Minecraft to contain two microphones embedded in replica ears so as to capture sound in audio stereoscopicy, to combine with visual input from virtual or augmented reality to draw the person really into the experience.
Even on it's own, the virtual barbershop example, which is completely devoid of video gives a compelling and immersive experience of being in a barbershop for a hair cut, down to the snip-snip of the scissors above your ears.
A little pre-show research turned up several auditory games, the first discovered via a link to the AppleVis podcast team's review of Ear Monsters. Vanished and Blindside are a couple other examples of auditory games.
This fascinating conversation led, naturally, to music, and groups such as Yes, The Who, Art of Noise and more came into auditory focus. Give us a listen — check out the links — make your ears happy. Ours sure are!
Show Links
Binaural Sound demo from BBC — https://www.youtube.com/watch?v=51za5u3LtEc&feature=youtu.be
Virtual Barber Shop — https://www.youtube.com/watch?v=IUDTlvagjJA
AppleVis review of Ear Monsters — http://www.applevis.com/apps/ios/games/ear-monsters-3d-audio-game
Ear Games (makers of Ear Monsters) — http://www.eargames.com/
Vanished audio only game — https://www.engadget.com/2013/09/29/audio-only-horror-game-vanished-out-now-on-ios/
Blindside audio game — http://blindsidegame.com/
Leave It by Yes — https://itunes.apple.com/us/album/90125-deluxe-edition/id1082025269 Apple, or https://play.google.com/store/music/album?id=Bdrje6xvsqlxg53zycriukmkcwm&tid=song-Twhiy3dtg2ka23jfcujfteke24e&hl=en Google
Leave it by Yes music video — https://www.youtube.com/watch?v=8-hJFoSgXfM
Yes' 90125 album — https://en.wikipedia.org/wiki/90125
Tevor Horn — https://en.wikipedia.org/wiki/Trevor_Horn
SCTV's 3-D House of Beef — https://www.youtube.com/watch?v=iEnCKEfSgUM
Baba O'Reilly by The Who — https://www.youtube.com/watch?v=8c1hYO_BYHY

Podcast: Play in new window | Download (30.7MB)