Michael and Michael use their prognostic skills to divine what the next Niantic game might be in 2018 based on the non-specific reports in the media about the Wizards Unite game to be unveiled in a few months.
Could there be a spell collecting game that drives players to bookstores and libraries to discover & unlock spells?  Maybe use newspaper vending machines as something to check into in order to open powerups.  How about zoos to collect your own fantastic beasts into your virtual menagerie?
Speaking of pictures, the data in the pictures can provide an huge amount of value in monetizing the activities of.the players. Warby Parker is doing this — using the new capabilities of the iPhone X facial mapping to recognize the contours of the user's face in order to match the best glasses to the face of the user.
Any sufficiently advanced technology looks like magic, and Michale R has found a couple examples of two Avengers, Thor and Iron Man whose mighty feats are duplicated by a drone and micro-gas turbines, respectively.  Check out the videos to see these in action.
Selected links 
Tech Crunch article:  Niantic's follow-up to Pokemon Go will be a Harry Potter AR game launching in 2018 — https://techcrunch.com/2017/11/08/niantics-follow-up-to-pokemon-go-will-be-a-harry-potter-ar-game-launching-in-2018/
Fortune article:  Commentary: Pokemon Go's Creator is Making a Harry Potter Game.  Will It Bomb Too?  — http://fortune.com/2017/11/14/harry-potter-pokemon-go-game-augmented-reality/
Pokemon Go Starbucks drink link —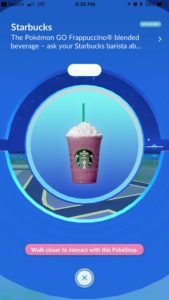 9 to 5 Mac article:  Warby Parker is using face mapping on the iPhone X to provide glasses recommendations — https://9to5mac.com/2017/11/07/warby-parker-is-using-face-mapping-on-the-iphone-x-to-provide-glasses-recommendations/
Warby Parker iOS app — https://itunes.apple.com/us/app/glasses-by-warby-parker/id1107693363?mt=8
Mashable article:  Real-Life 'Iron Man' sets Guinness World Record because of course he does — http://mashable.com/2017/11/09/iron-man-guinness-world-record-tony-stark-richard-browning
Tech Crunch article:  Boston Dynamics' Atlas robot is a parkour master — https://techcrunch.com/2017/11/16/boston-dynamics-atlas-robot-is-a-parkour-master
Reddit: AI email program designed to reply to email scammers — https://www.reddit.com/r/Futurology/comments/7brzw4/rescam_ai_email_program_designed_to_reply_to/
Tech Crunch article:  They turned 'Rampage' into a movie (and here's the first trailer) — https://techcrunch.com/2017/11/16/rampage-trailer/

Podcast: Play in new window | Download (Duration: 35:48 — 41.2MB)