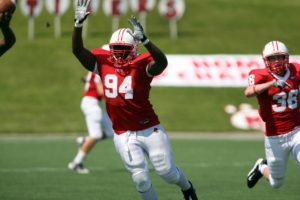 On an unseasonably warm Friday, Michael & Michael get together to discuss a sports to business application of virtual reality, that of training retail store employees to prepare for the oncoming rush of bargain hunters on Black Friday instead of the rush of oncoming defensive backs.
A favorite topic of ours — augmented reality use methods — resurfaces in this episode, this time prompted by the recent Apple acquisition of a Canadian AR company called VRVANA, which leads to a conversation about miniaturization of this technology, ultimately embedding into bionic contact lenses, or even a potential direct optic nerve connection.  At the very least, we don't bring up spiders in this episode.  Whew.
The team talks about home robotics, and Rosie from the Jetsons seems to be cropping up in many articles.  The concept of a friendly companion robot is one that many companies are chasing after, and the article for this show comes from an experience with a robot called Jibo.
Closing out the show with a discussion on wearables, Michael and Michael are amazed at the new capabilities enabled by the Kardiaband, and what this implies for future medical devices to improve and save lives.
Selected links 
MIT Technology Review article:  Finally a Useful Application for VR: Training Employees — https://www.technologyreview.com/s/609473/finally-a-useful-application-for-vr-training-employees/
Business Insider article:  Apple bought a Canadian AR startup for $30 million — and it could give Apple an edge in the next big thing — http://www.businessinsider.com/apple-buys-vrvana-totem-mixed-reality-headset-2017-11
VRVANA — https://www.vrvana.com
Hackday io — Joo Janta 200 Super-Chromatic Peril Sensitive Sunglasses project — https://hackaday.io/project/580-peril-sensitive-sunglasses
Futurism article: Bionic Contacts: Goodbye Glasses. Hello Vision That's 3x Better Than 20/20 — https://futurism.com/bionic-contacts-goodbye-glasses-hello-vision-thats-3x-better-than-2020/
Transitions photochromic transition eyeglasses — https://www.transitions.com/en-us/
Wall Street Journal article:  This Cute Little Robot Made My Family Mad — https://www.wsj.com/articles/this-cute-little-robot-made-my-family-mad-1511980911
Rosie from the Jetsons — http://thejetsons.wikia.com/wiki/Rosey
Jibo — https://www.jibo.com
Roomba — http://store.irobot.com/default/robot-vacuum-roomba/
Sphero BB-8 — https://store.sphero.com/products/bb-8-by-sphero
Thomas Friedman's Thank You for Being Late — http://www.thomaslfriedman.com/thank-you-for-being-late/
TechCrunch article:  FDA clears AliveCor's Kardiaband as the first medical device accessory for the Apple Watch — https://techcrunch.com/2017/11/30/fda-clears-alivecors-kardiaband-as-the-first-medical-device-accessory-for-the-apple-watch/
Kardiaband for Apple Watch — https://store.alivecor.com
Chuck Norris facts — https://en.wikipedia.org/wiki/Chuck_Norris_facts
What games are the hosts playing?
Michael R: Injustice 2 — https://itunes.apple.com/us/app/injustice-2/id1109008423?mt=8
Michael M:  Nonstop Chuck Norris — https://itunes.apple.com/ph/app/nonstop-chuck-norris/id1154002816?mt=8

Podcast: Play in new window | Download (Duration: 30:14 — 34.8MB)